Motorboat in Brindisi
Go swimming with the chic motor yacht "Felicità", enjoy Apulian specialities and discover a stunning old town scenery in the harbour of Brindisi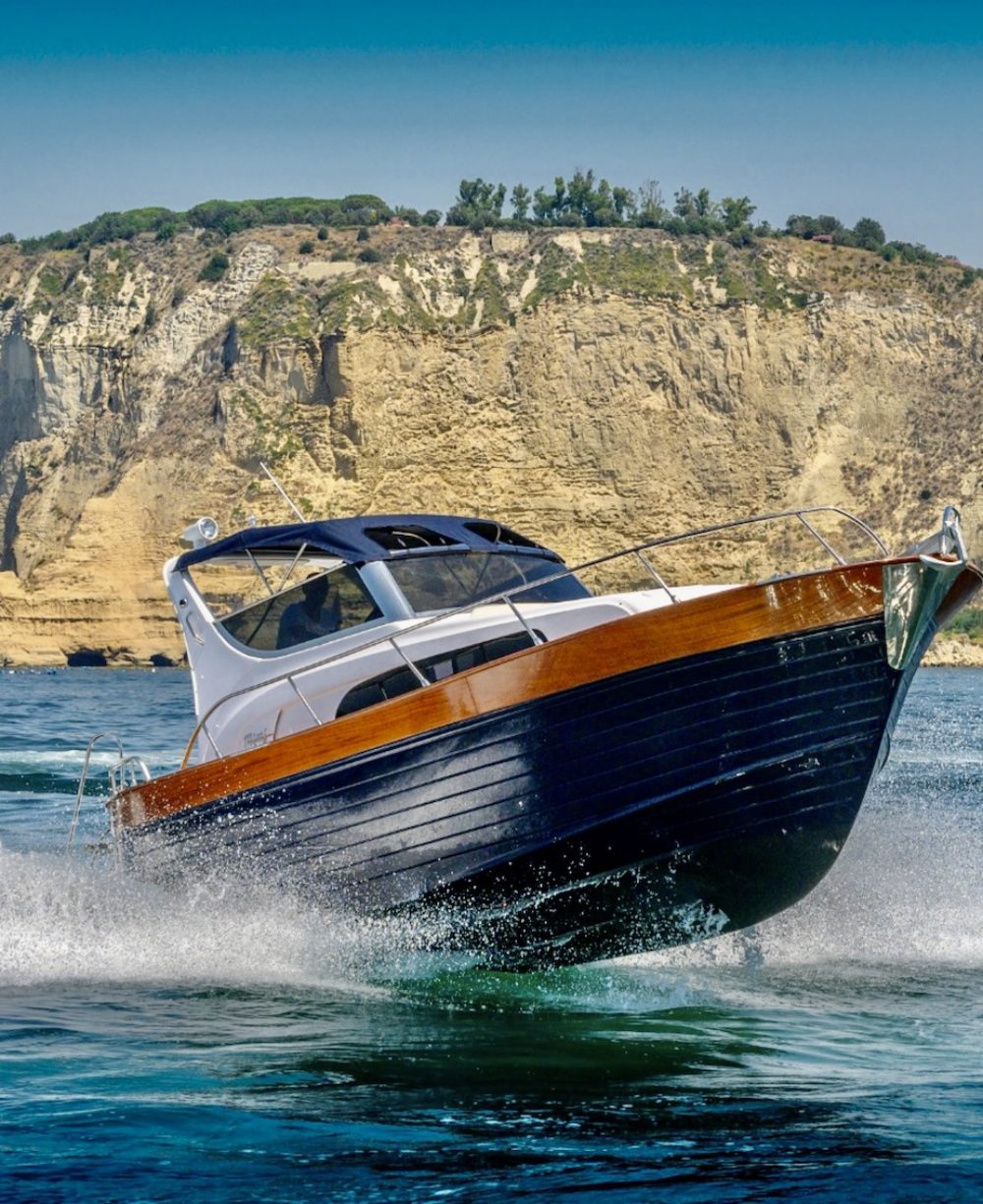 Type of location
Motorboat rental with skipper
Best of
Spend a relaxing day on the crystal clear sea
Boat tour with English speaking guide
Description
– Klaus Borst, manager from Germany with an international career, has been now living in Salento for two years and offers exclusive, tailor-made boat tours for 2 – 8 passengers
– the motor yacht "Felicità" built in 2021 in the style of a Salentine gozzo with 2 x 195 hp, teak deck and all the features of a modern motor boat guarantees comfortable and stylish tours
– go on boat at Marina di Brindisi, mooring J-25
– only on advance booking
If you feel like it, before meeting at Marina di Brindisi, you can visit the 53 m high seafarers' monument "Monumento ai Marinai d'Italia", located on the northern high bank of the inner harbour. It offers one of the most beautiful views of the old town of Brindisi. Allow about 1 hour for this. Closed on Wednesdays.
We start around 14:00 in the port of Brindisi with a cool welcome drink or an espresso, as you wish.
After a short safety briefing, we sail out to the open sea off Brindisi in a northerly direction to Capo Gallo, where we drop anchor in one of the bays off Punta Penne in the crystal clear water.
Now it's time to relax! Jumping into the sea from the bathing platform is a wonderful refreshment, back over the bathing ladder you can shower with fresh water and then indulge in dolce far niete on the large white bathing towels.
While the guests swim and sunbathe, Klaus, a passionate gourmet, prepares a Salentine summer buffet with everything Puglia has to offer. Special requests possible at any time!
Later in the afternoon we take a leisurely cruise back to the inner harbour of Brindisi, a real pleasure tour with an unforgettable view of the sea promenade of the old port city, as it is only possible from a boat.
Here, from a unique perspective in the light of the sunset, we see the two columns that mark the end of the Via Appia, which has connected Rome and Brindisi for 540 km since 190 BC. In ancient times, Brindisi was the most important transhipment point for goods and slaves from the Orient.
When all the photos have been taken, and there will be many thanks to the magnificent panorama (yes, there is a USB charging facility!), we return to the mooring in the marina shortly before sunset.
Would you like to book a longer tour? Maybe to Polignano al Mare or Trani in the north, or are you more interested in the south with Otranto or the steep coast with the beautiful grottos between Tricase and Santa Maria di Leuca? Or do you want to complement your holiday at Masseria Alchimia with a boat trip of several days before or after? Gargano, Liparic Islands, Amalfitana – everything is possible!
Klaus will be happy to advise and accompany you individually! Just ask him what you are looking for!