Stunning fortress
The Castel was built by Frederick II around 1240 that leaves visitors with a feeling of pleasant enigma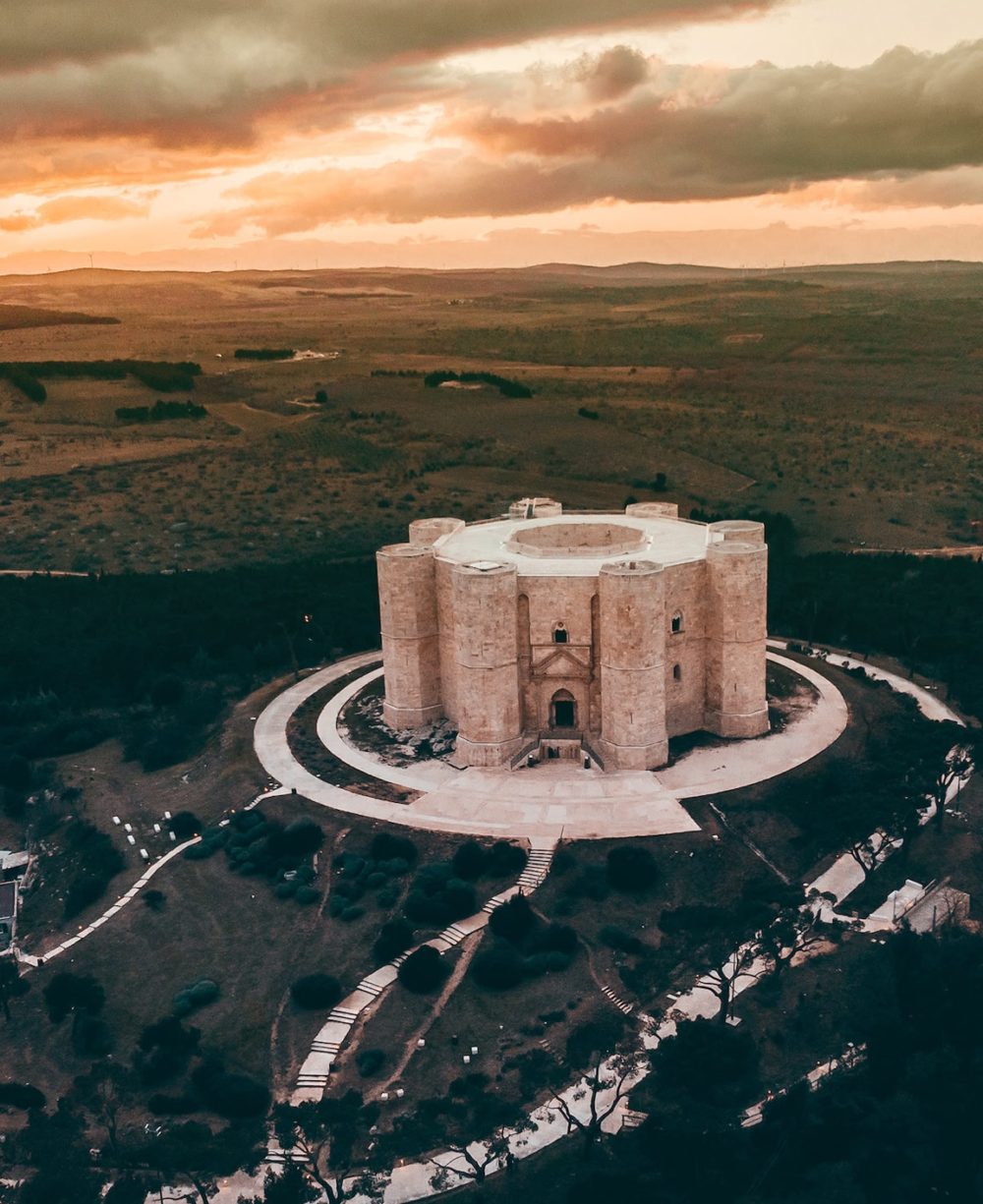 Information
Website
www.casteldelmonte.beniculturali.it
Type of location
National monument inscribed on the UNESCO World Heritage List in 1996
Description
If you come to Apulia, I recommend you visit Castel del Monte, one of the symbols of the region. It is located 30 km from beautiful Trani and 125 km from Masseria Alchimia. A stunning 13th century medieval fortress built by Frederick II, it was chosen as the symbol for the 1 euro cent coins minted in Italy.
It is an incredible place, full of mystery. Isolated and surrounded by the green of the Murge, it is known for its unique octagonal shape. It combines different stylistic elements: Romanesque, Gothic, classical, up to the Islamic refinements of the mosaics. I believe that this is also what fuels its enigmatic charm, as well as the mystery of its function.
Is it a fortress, but without moats, with narrow embrasures and steep spiral staircases in a counter-clockwise direction, disadvantageous in case of assailants? Or is it a hunting lodge, Frederick II's favourite activity, but without stables and with elegant ornaments, in contrast to a residence intended for hunting? Or rather of a temple intended for the study and training of the individual, recalling that Frederick II was an advocate of the Sicilian School? Or were the castle and its rooms, decoration, geometry and doors arranged to follow an astronomical path, a secular temple with no practical, civil or military purpose? The absence of kitchens, basements, moat, drawbridge and defensive elements usually found in a medieval castle are the assumptions that give strength to those who support this theory. Or, finally, the Castel del Monte as a place to recreate the body, like an Arab hamman, given the sophisticated system of channelling and storing water? Either way, a beautiful place!
You can visit it on your own or, if you prefer, there are very knowledgeable and friendly tour guides outside. They can explain the decorations of the 16 rooms, the towers and the meaning of the columns at the entrance. They will certainly tell you the many secrets of the castle.
Online booking is required for entry. Parking is at the bottom of the hill, transfer by bus to the top, or take a walk through the woods.
I highly recommend rounding off the day with lunch at Pietro Zito, chef of the fantastic restaurant Antichi Sapori. It is located just 15 km from Castel del Monte, in Montegrosso. Try the tasting menu, all superb. After lunch, visit their garden not far from the restaurant. Excellent dishes of the highest quality that refer to the local tradition. A place of my heart and one of the best representatives of Apulian specialities! For more information, see its page in the 'Restaurants' section of my Magazin.