Pearl of Puglia
An enchanting place on the coast of the Itria Valley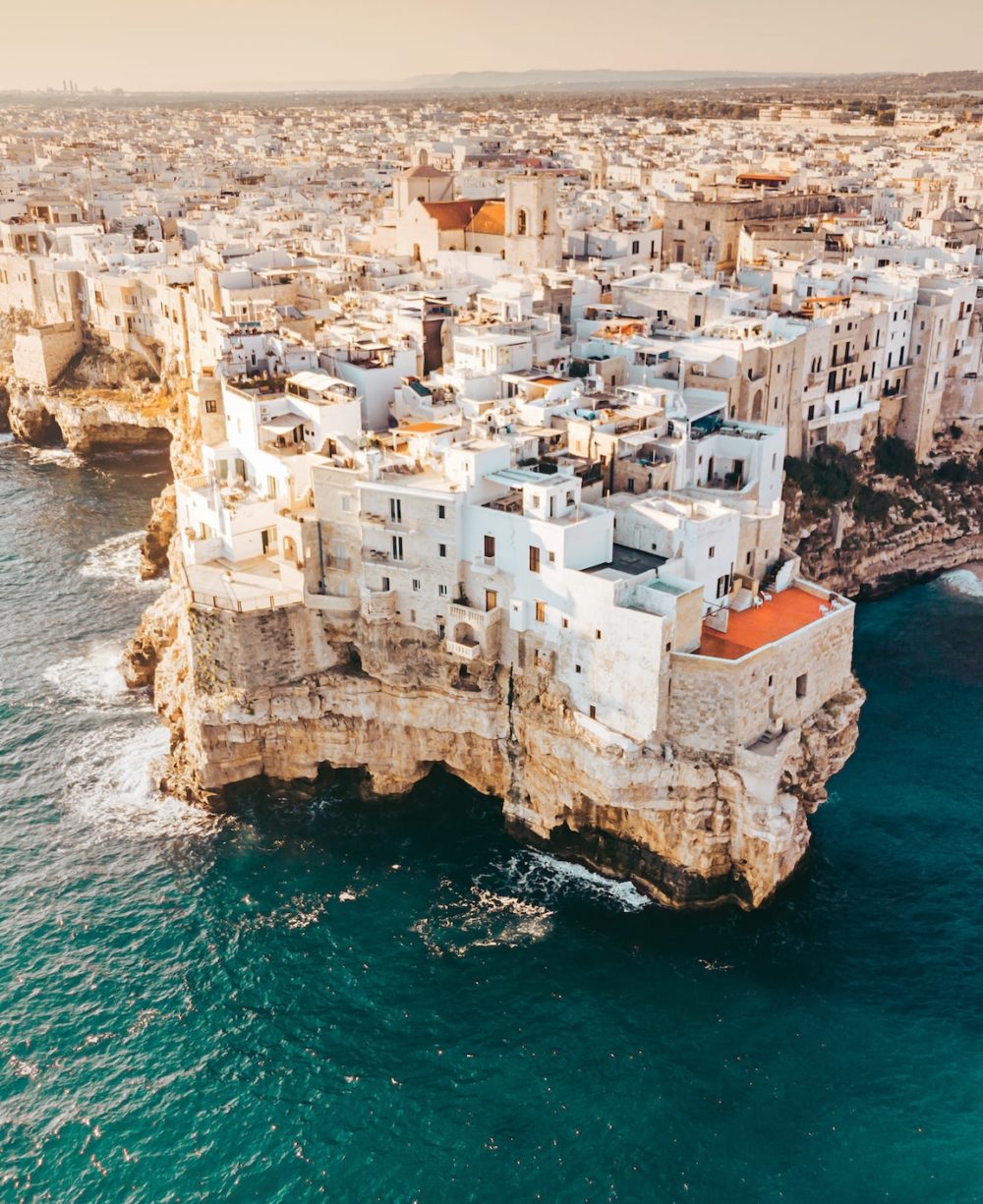 Type of location
Small coastal town
Description
Polignano a Mare is located in the province of Bari, just above Monopoli. It is easily reached by car from Masseria Alchimia, just 20 minutes away.
It stands on a rocky spur overlooking the sea, making it one of the most picturesque villages in the region. Its fantastic location by the sea is, in itself, worth the visit. Among the many beaches and coves, the most famous and popular is Lama Monachile, the most photographed vantage point in the village.
In the old town you will find white houses and narrow streets and poems written on the walls all the way to the square Piazza Gelso (Tip: visit the studio of glass artist Peppino Campanella, in a side street) with the statue of Domenico Modugno, a native of Polignano. I recommend visiting the Church of Santa Maria Assunta or the Arco Marchesale. At sunset the village has an incredible charm, with its enchanting views from the many terraces. And in the evening its alleys are perfect for taking photos by night.
Also not to be missed is San Vito di Polignano – a few kilometres north of the town – a small hamlet, with its beautiful Abbey, characteristic little harbour, two restaurants and an ancient Saracen Tower.
And if you love cultural events, I suggest Il Libro Possible Book Festival in July. Lots of books in the streets and squares of Polignano, with guests and meetings with important writers.
To eat, there is no shortage of trattorias, restaurants and tasty eateries where you can enjoy the flavours of Puglia in an enchanting setting, see the dedicated pages in our Magazin.
Tip: take a look at the Pino Pascali Museum, take the exit "Polignano a Mare SUD" on the motorway, then it is well signposted. It's easy to park there and then you can reach the old town in 10 minutes, just walk north along the Lungomare.